9 min read
10 best Dirt Bike Brands : Ultimate Buying Guide FOR 2023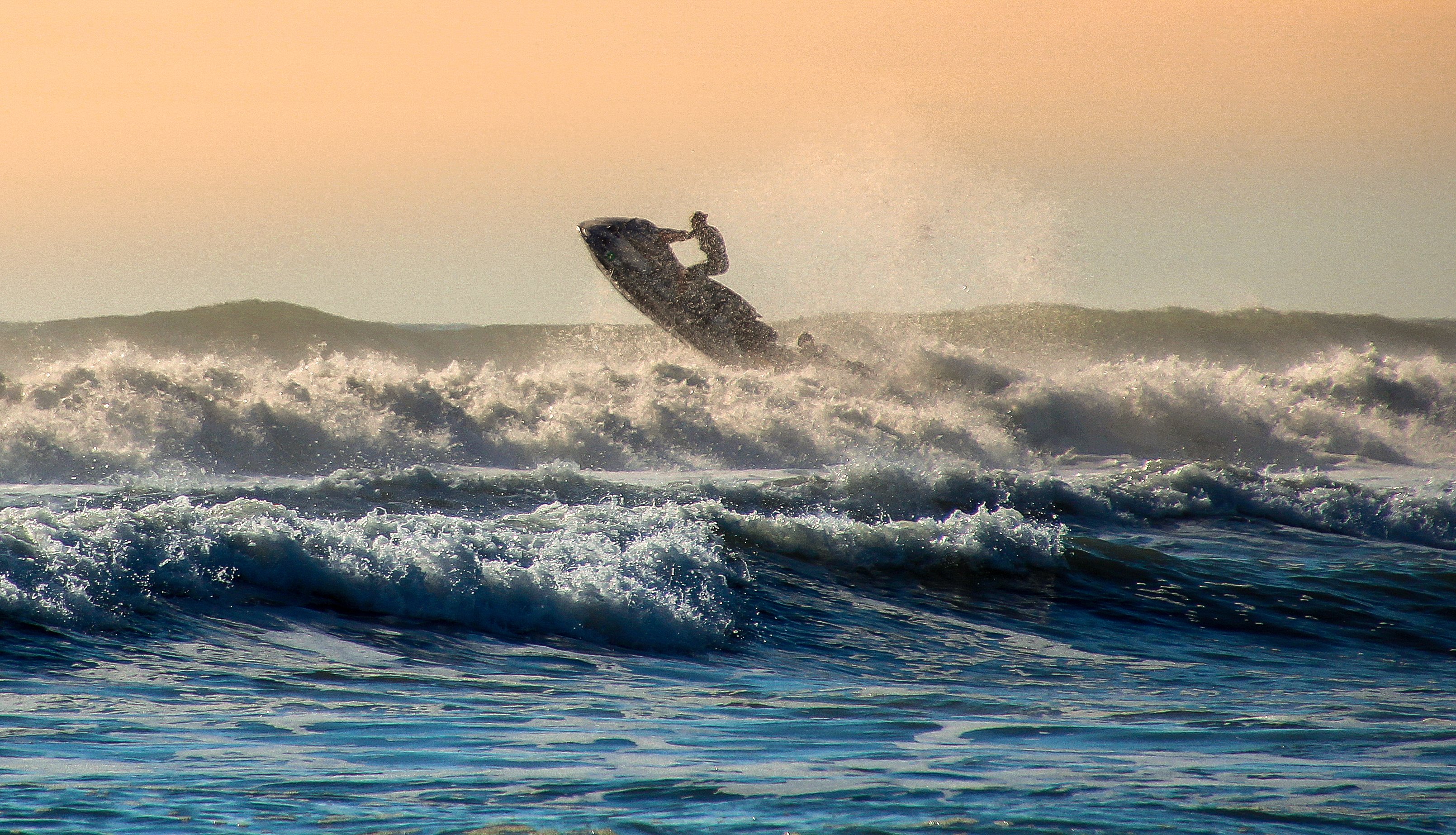 Tyler "Thunder" Edwards : Apr 14, 2023 10:53:43 AM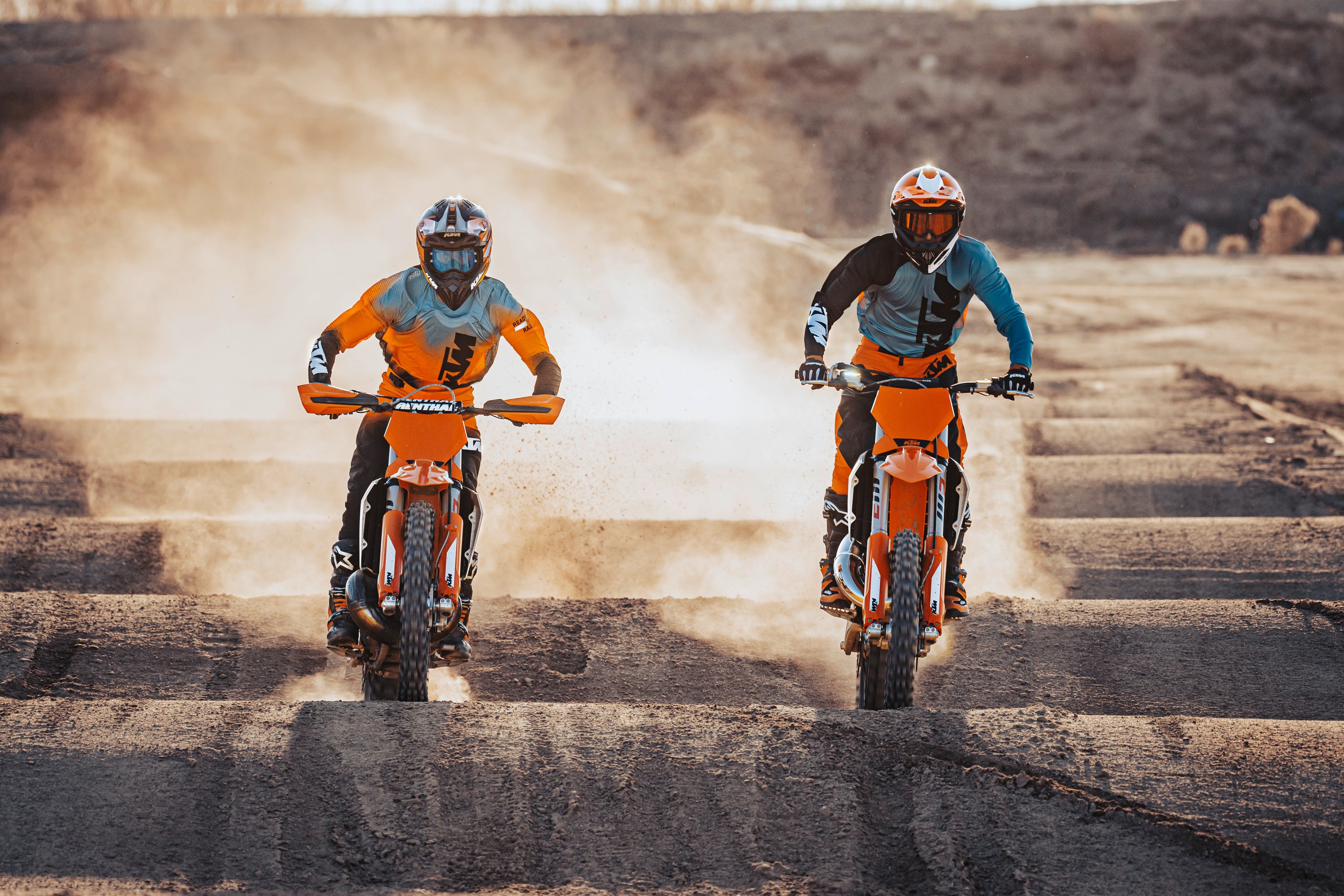 Rev up your excitement and get ready to explore the thrilling world of off-road adventures with Best Dirt Bikes! If you're on the hunt for the ultimate dirt biking experience, you've landed in the right place. In our quest to unearth the absolute best, we've scoured the landscape of two-wheel wonders and are here to present the definitive guide to Dirt Bike Brands for 2023.
Whether you're a seasoned motocross maven or just itching to kick up some dirt on the weekends, the allure of a high-quality dirt bike is universal. It's more than just a machine; it's an extension of your passion for the open trail, the rush of the wind against your helmet, and the thrill of conquering rugged terrains.
In this comprehensive guide, we'll take you on a journey through the top 10 dirt bike brands that have captured the hearts of riders worldwide. From cutting-edge technology to raw, untamed power, each brand in our lineup offers a unique blend of features and capabilities. So, fasten your helmet, grip those handlebars, and let's dive into the exhilarating world. Your next epic ride awaits!
WHAT IS THE MOST RELIABLE DIRT BIKE BRAND ? - YAMAHA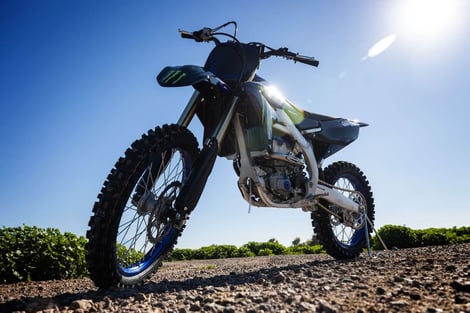 Yamaha dirt bikes, in 2023, remains a leading choice for reliable and affordable dirt bikes, particularly for beginners. The brand's focus on robust engineering ensures less mechanical problems and extends to reasonably priced aftermarket parts, addressing concerns about long-term maintenance costs.
As a result, Yamaha offers new riders a sturdy and cost-effective entry into dirt biking, allowing them to focus on improving their skills with a dependable bike and manageable maintenance budget.
Now that we've highlighted the notable qualities of Yamaha as a leading dirt bike choice, it's time to broaden the view and see where it stands in the larger landscape. It's time to countdown our top 10 list of the best dirt bikes money can buy in 2023. Let's see how they measure up!
#10
KTM 450 SX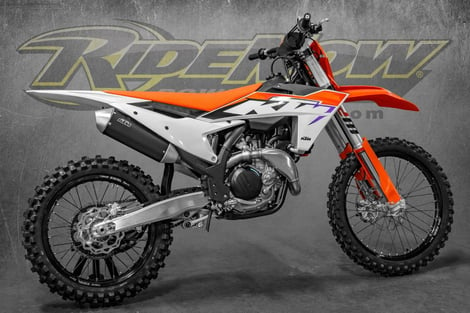 Base MSRP for this Dirt Bike starts at: $12,099
Experience the pinnacle of performance with the KTM 450 SX, one of the best dirt bike brands in the industry. Its bold and modern graphics, coupled with tapered handlebars and a sporty aesthetic, ensure it stands out from the competition. This remarkable bike, famously chosen by Ryan Dungey for his AMA Supercross Championship endeavors, is the epitome of power and precision.
The KTM 450 SX boasts an array of features that elevate it to the top tier of dirt bikes. This exceptional bike offers easy suspension adjustment, selectable maps, and mass centralization, providing absolute control and stability.
To top it all off, this dirt bike is equipped with larger "no dirt" footpegs, further enhancing your grip and stability. Its flexible frame design enhances energy absorption for the wheels, smoothing out the ride and improving overall handling.
#9
YAMAHA YZ250X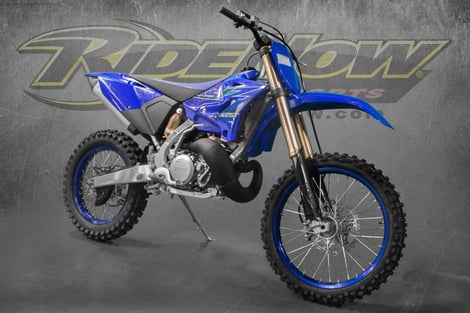 Base MSRP for this Dirt Bike starts at: $7,999
When it comes to the outstanding Off-Road Bike brands, the Yamaha YZ250X stands out as a remarkable choice. While it may share a resemblance with its predecessor, the YZ250, it takes off-road performance to the next level with its exceptional features.
At the heart of the YZ250X lies its potent two-stroke powerplant, ensuring a thrilling and dynamic riding experience. Tailored for GNCC® (Grand National Cross Country) enthusiasts, this bike boasts GNCC®-specific features that enhance its off-road capabilities, including an 18-inch rear wheel, a kickstand for convenience, and superior traction control.
The YZ250X doesn't just excel in power; it also delivers a smooth and controlled ride thanks to its softer compression and the outstanding KYB suspension. Its advanced motocross-derived chassis ensures precise handling, making it a versatile choice suitable for riders of varying skill levels.
Furthermore, the Yamaha YZ250X introduces a new brake system for improved stopping power and rider safety. Enhanced rider ergonomics contribute to a comfortable and intuitive riding experience, ensuring you stay in control on any terrain.
Completing the package is the bike's bold and updated YZ styling, which not only catches the eye but also reflects Yamaha's commitment to innovation and performance.
#8
KTM 250 SX-F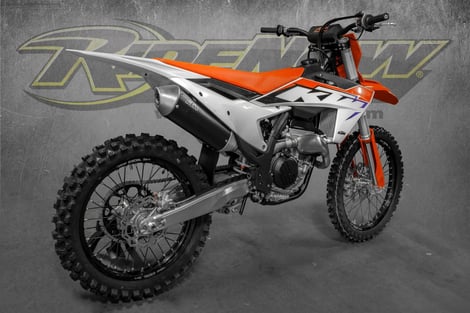 Base MSRP for this Dirt Bike starts at: $10,599
Claiming the eighth spot among the foremost Dirt Bike producers is our inaugural non-Japanese entrant, and it's none other than the high-performance KTM 250 SX-F. This sporty sensation has captured the hearts of both amateur and professional riders alike, thanks to its impressive engine and overall performance.
Under the hood, the 2023 KTM 250 SX-F packs a punch with its one-cylinder, four-stroke engine, setting a benchmark for power and agility in its class. As the lightest contender in its category, it offers riders unparalleled maneuverability and control on various terrains.
What sets this dirt bike apart is its advanced technology. The 250 SX-F boasts a 5-speed transmission for precise gear control, an electric starter for hassle-free ignition, and a flexible frame design that minimizes vibrations. This innovation results in improved torque delivery, ensuring a responsive and thrilling ride.
Furthermore, the bike features a shorter wheelbase, enhancing its handling capabilities and agility around corners. The upgraded combustion chamber in the cylinder head contributes to optimized engine performance, allowing you to push your limits and conquer challenging trails with confidence.
Riders will also appreciate the KTM 250 SX-F's energy absorption capabilities, providing a comfortable and smooth ride even on rough terrains. To top it off, it comes equipped with the WP XAct Fork, adding to the bike's overall suspension prowess.
#7
SUZUKI RM-Z 250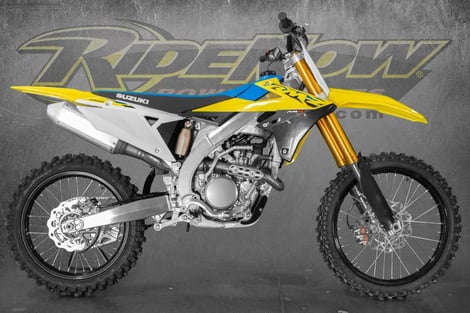 Base MSRP for this Dirt Bike starts at: $7,899
The 2023 Suzuki RM-Z250, a standout among the top dirt bike brands, offers an exceptional blend of performance and handling that's sure to ignite your passion for off-road riding. Engineered for excellence, this bike's features make it a top choice for riders looking to elevate their dirt biking experience.
At the core of the RM-Z250's appeal is its emphasis on lightweight design, which translates to unparalleled agility and responsiveness. The meticulously crafted frame enhances cornering stability and provides superb straight-line performance. Whether you're tackling tight corners or high-speed stretches, this bike's precision and control are second to none.
Dunlop MX52 tires with the Carcass Tension Control System further enhance the riding experience by offering a perfect balance of rigidity and grip. This ensures you maintain control and traction across diverse terrains, from rugged trails to sandy tracks. Additionally, the bike's rider-centric features, including an oil-level window, electric ignition, and A-mode/B-mode options, provide convenience and adaptability, allowing you to tailor your ride to different conditions.
However, the true essence of the 2023 Suzuki RM-Z250 lies in its exceptional engine performance. The power and precision of this bike's engine enable riders, whether amateurs or professionals, to dominate races and conquer challenging off-road environments. Its rider-friendly tuning options add a personal touch, ensuring your dirt biking experience is as exhilarating as it is immersive. In the world of dirt biking, the RM-Z250 is a force to be reckoned with, offering the perfect blend of power and precision for riders seeking the best in performance and handling.
#6
Yamaha WR450F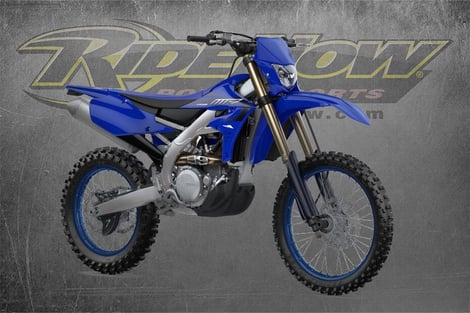 Base MSRP for this Dirt Bike starts at: $9,799
When it comes to the best dirt bike brands, the Yamaha WR450F emerges as a true standout, offering a harmonious blend of innovation and performance. This remarkable machine is equipped with an array of features designed to enhance your riding experience.
At its core, the Yamaha WR450F boasts an advanced aluminum frame that elevates its handling capabilities, ensuring precise control on various terrains. The lightweight exhaust system and wide-ratio five-speed transmission further contribute to its agility and responsiveness, allowing riders to conquer challenging trails with ease.
Under the hood, the WR450F packs a powerful punch with its four-stroke five titanium-valved engine, delivering more power than ever before. Riders have the freedom to choose their preferred riding style with two distinct modes: basic and race. The basic mode offers essential features like a speedometer, clock, and trip meter, while the race mode adds a timer and a distance-compensating trip meter to cater to competitive riders.
Comfort is a top priority for the Yamaha WR450F, with features like a plush seat, tapered aluminum handlebars, and extra-wide footpegs ensuring a comfortable and fatigue-free ride, even during extended journeys.
Moreover, the Yamaha WR450F is environmentally conscious, as it is EPA-compliant, making it an eco-friendly choice for riders who value sustainability. It is also green sticker-approved for California, meeting the state's strict emission standards.
#5
YAMAHA YZ250F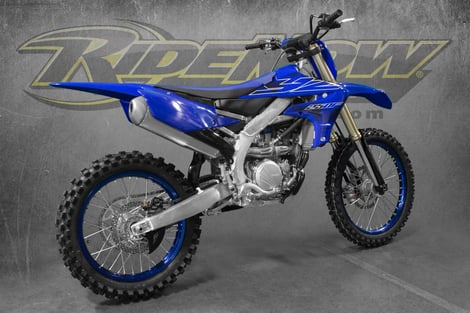 Base MSRP for this Dirt Bike starts at: $8,499
When it comes to the top off-road motorcycle manufacturers, the 2023 Yamaha YZ250F shines as an exceptional choice tailored for cross-country riders seeking excellence in performance and handling. This remarkable machine is equipped with a host of features designed to elevate your off-road adventures.
At its core, the Yamaha YZ250F boasts an advanced 250cc four-stroke engine, delivering power and precision that cross-country enthusiasts crave. This potent engine is complemented by an innovative Yamaha Power Tuner App, allowing riders to fine-tune their bike's performance to match their preferences and riding conditions with ease.
Designed for the rigors of off-road and cross-country racing, the YZ250F features KYB rear shocks that provide exceptional suspension performance, ensuring a smooth and controlled ride over varied terrain. Paired with a high-performance braking system, this bike offers the stopping power needed for both precision and safety during your cross-country journeys.
With a two-gallon fuel tank, XC racing tires, and the convenience of an electric start, the YZ250F is tailored to meet the specific needs of cross-country riders. The Keihin 44mm throttle body fuel injection system ensures a seamless and responsive ride, allowing you to navigate tight corners and open trails with confidence.
#4

KAWASAKI KX250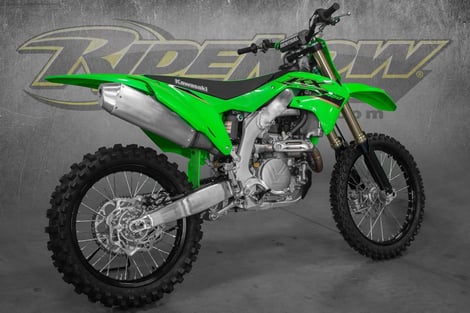 Base MSRP for this Dirt Bike starts at: $8,399
When it comes to the exceptional dirt motorcycle makers, the Kawasaki KX250F stands tall, boasting a track record with more AMA National Motocross wins in its class than any other. This powerhouse exemplifies the "less is more" philosophy, where reduced weight translates into unparalleled performance.
The heart of the KX250F is its 249cc engine with electric start, ensuring a quick and hassle-free ignition. To further enhance its prowess, the KX250F features race-ready suspension that's fine-tuned for precision and control on the track. This suspension system is designed to tackle the most demanding off-road terrains with ease, giving riders the confidence to push their limits.
The KX250F's racing-inspired technology shines through with the inclusion of the largest diameter front brake rotor in its class, providing exceptional stopping power and control.
Moreover, the KX250F offers a coned disc-spring hydraulic clutch for seamless gear changes and improved rider control. It's a testament to the bike's attention to detail and commitment to providing a top-tier riding experience.
For those looking to fine-tune their riding style, the KX250F offers a four-position handlebar and adjustable footpegs, providing riders with more room to customize their ergonomics and tailor the bike to their preferences.
#3

YAMAHA YZ450F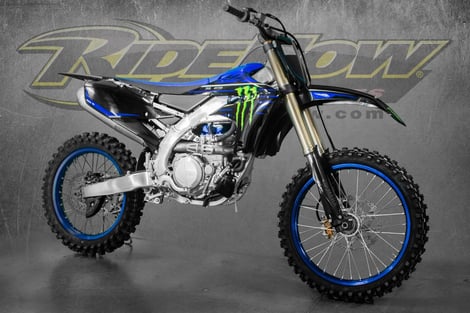 Base MSRP for this Dirk Bike starts at: $9,599
When it comes to the best dirt bike makers, the Yamaha YZ450F stands out as a true icon, beloved by both weekend riders and professional industry racers alike for its sporty and dynamic appearance. This bike's reputation precedes it, and for good reason.
At the core of the 2023 YZ450F is a new 450cc four-stroke engine that exemplifies power and precision. This high-performance engine is a testament to Yamaha's commitment to delivering top-tier performance for riders who demand nothing but the best.
For those who seek ultimate control, the YZ450F offers new traction control and updated launch control systems. These advanced features optimize engine output, ensuring quick and controlled racing, whether you're a seasoned pro or a weekend warrior.
The 2023 YZ450F doesn't stop there—it introduces a high-performance braking system with new 270mm front brakes, delivering exceptional stopping power and control.
Additionally, Yamaha has focused on rider comfort and ergonomics, providing a slimmer body and improved ergonomics for enhanced control and maneuverability on the track. When the YZ450F is the top choice of Pro Motocross and Supercross riders like Weston Peick and Justin Barcia, you can rest assured that you're making the right choice.
#2
KAWASAKI KX450F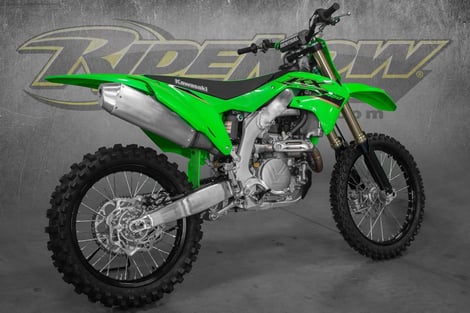 Base MSRP for this Dirt Bike starts at: $9,599
When it comes to the top contenders among the best dirt bike brands, the Kawasaki KX450F stands out by combining power and reliability in a rider-friendly package. This exceptional bike is meticulously crafted with a range of features to ensure an unparalleled riding experience.
At its core, the Kawasaki KX450F is powered by a potent 449cc 4-stroke engine, delivering impressive power and reliability. The new cylinder head and straight exhaust port further enhance engine performance, providing quick acceleration and minimal slippage, whether you're navigating tight corners or accelerating down the track.
Brake upgrades on the KX450F ensure precise control when you need it most, especially after all that exhilarating acceleration. These new Brembo brake components offer increased controllability, giving riders the confidence to tackle challenging terrains with ease.
Comfort and ergonomics are paramount, with a flatter seat design that facilitates more comfortable position changes during your ride. One of the standout features of the Kawasaki KX450F is its adaptability. The bike offers adjustable fuel and ignition settings, allowing riders to fine-tune their ride to match their preferences and the specific demands of the track.
Moreover, the KX450F introduces new Rideology connectivity, which enhances the riding experience by providing valuable data and insights to riders. Lastly, the KX450F boasts a lighter aluminum frame that significantly improves handling, making it a breeze to maneuver through challenging terrain.
#1
HONDA CRF450R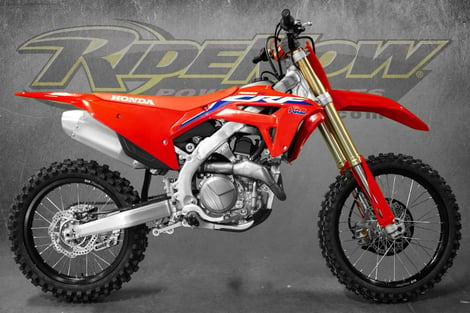 Base MSRP for this Dirt Bike starts at: $9,699
When it comes to the finest dirt bike brands, Honda's CRF450R roars to the forefront, embodying the essence of motocross racing with its potent combination of lightness, power, and responsiveness. The 2023 model takes stability to new heights with an extended fork and an innovative shock link, ensuring a ride that's more steady and controlled compared to its predecessors.
One of the standout features of the CRF450R is its versatile engine settings, offering riders the choice between standard, smooth, and aggressive modes at the push of a button. This customization allows you to tailor your ride precisely to your preferences, whether you're seeking a thrilling adrenaline rush or a smoother, more controlled performance.
Within the 450 class, the CRF450R enjoys immense popularity, and for good reason. Its light, narrow frame, hydraulic clutch, and exclusive Works Edition all contribute to its status as a leader in the dirt bike world. Furthermore, the 450cc Unicam engine boasts an automatic decompression system and a fuel injection system
Final Thoughts
Embarking on a dirt biking adventure is like stepping into a realm of pure exhilaration. It's not just a sport; it's a wild and untamed journey through the great outdoors. With every twist of the throttle, you're exploring new horizons and pushing your limits, all while getting that electrifying dose of adrenaline. And as you set out on this thrilling quest, our carefully curated selection of the finest dirt bike brands is your trusty companion.
So, why wait? The trail beckons, the dirt calls, and the adventure of a lifetime awaits. Ready to fuel your passion and kickstart your next great adventure? CLICK HERE to explore our RideNow Powersports inventory, where the thrill begins!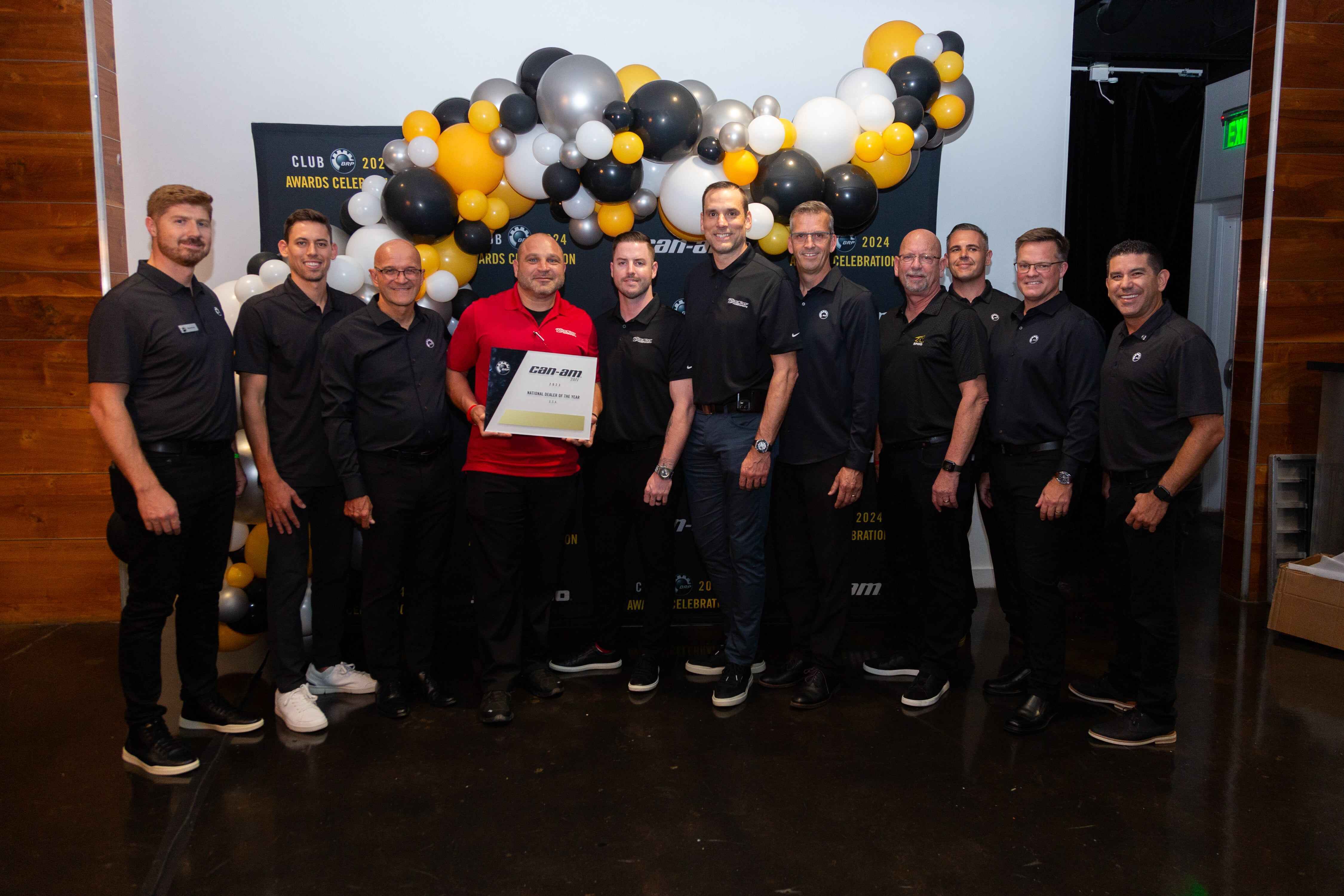 Attention Powersports aficionados and the RideNow community! There's exhilarating news coming your way! The RideNow Powersports Chandler dealership,...
Read More